Bhimtal
Bhimtal stands at a height of 1370 meters above sea level. Clients may indulge in boating, kayaking and zorbing or visit the aquarium. It is much quieter than Nainital and a good location for a solitude holiday with family and friends. The best time to visit Bhimtal is between March and May in the summer and September to November in the winter as the weather is pleasant and cool.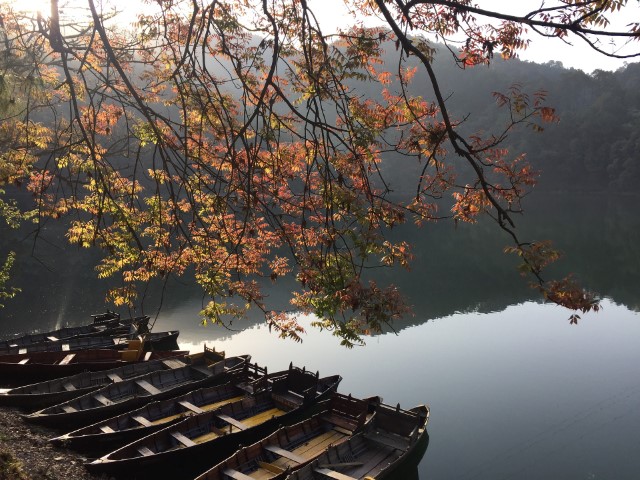 History
Bhimtal is named after Bhima of Mahabharata fame who is supposed to have created the lake and built a Shiva Temple on the banks of the lake during the Pandavas exile.
Bhimtal is older than Nainital and was once known to be on the silk route to Nepal and Tibet.
Things to do (Activities)
Bhimeshwar Mahadev Temple
The temple is named after Bhim and is 2 Kms from the main town.
Victoria Dam
The dam is at the end of the lake and has gardens on either side. A 17th century temple built by the Chand dynasty stands next to the dam.
Hidimba Parvat
A lush green terrain lying 5 Kms from Bhimtal. It is named after a demon Hidimba, the wife of Bhim.
Bhimtal
Also offers camping sites, kayaking, paragliding and trekking.
Karkotaka Temple
The temple is named after a mythical cobra and is located on the Karkotaka Hills.. The Temple is 3 Kms away from the center of town. Many pilgrims visit here to worship.
Hanuman Garhi
Located 4 kms from Tallital and an altitude of 6400 ft. above mean sea level. Lord Hanuman is the main deity of the temple.
Bhimtal Aquarium
This is located on an island and is quite popular with tourists especially children.
Sawai Madhopur is a good connection between Delhi and Mumbai hence from here one can visit Jaipur (180 Kms); Kota (125 Kms); Bundi (136 Kms) on good highways and rail links.