Chandigarh
Chandigarh is the first planned city of India. It is the capital of both the states of Punjab and Haryana. The city has fascinating architecture and buildings like Capitol Complex, High Court, Secretariat, Legislative Assembly and giant Open Hand Monument, it also has clean roads and lots of greenery.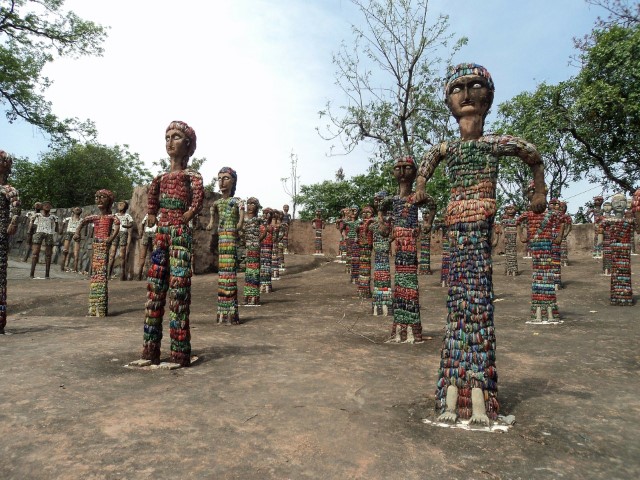 History
In ancient times Chandigarh was a wide lake ringed by a marsh. About 8000 years ago the area was also known to be a home to the Harappans. The foundation stone of the modern city was laid in 1952 and the city was designed by the Swiss-French architect, Le Corbusier. After partition of India and Pakistan the capital of Punjab- Lahore- went to Pakistan hence a new Capital was needed for the Indian part of Punjab. Shimla was made it's temporary Capital. In 1953 Chandigarh was designated the Capital. In 1966 Punjab was carved into two states i.e. Haryana and Punjab. Chandigarh located on the border of Haryana and Punjab was declared a Union Territory to serve as the Capital for both states.
Things to do (Activities)
Chandigarh was named after Chandi Mandir located 15 Kms from the City, this temple is known for wishes being granted. Relax in the Rose Garden amid nature. The garden has some exquisite variety of flowers. A must see is The Rock Garden a novel garden spread in an area of 64 acres. It was designed and set by Mr. Nek Chand- a former Road Inspector in Chandigarh. Take a boat ride on Sukhna lake nestled in picturesque surroundings at the foothills of the Shivalik range. Pinjore Gardens spread over 100 acres was once known as Yadvinder Garden. It is a spectacular place for a visit. Chandigarh has many well known gardens and parks making the city a paradise not to be missed.
Chandigarh is in close proximity to various holiday destinations in Himachal Pradesh, Uttarakhand, and Punjab. Within 100 Kms lie Parwanoo, Nahan and Kasauli. Beyond 100 Kms visit Shimla, Amritsar, Kasol, Kullu & Manali.
By Air
Chandigarh Airport is 12 Kms from the city center and links the city to the country by domestic flights. Regular flights are to and from Bangalore, Mumbai, Chennai, Delhi, Srinagar and Ahmedabad.
By Surface
Connectivity by road with other cities is through excellent highways. The city is well connected to Mussoorie, Mcleodganj, Shimla, Dharamshal, Delhi, Kullu & Manali. The road journey from Delhi takes around 4 to 5 hours.
By Train
Chandigarh railway station is around 8 Kms from the city center and several frequent trains ply between Chandigarh and Delhi, Punjab, Haryana etc.