Jaipur
Rajasthan's most ornate city. Jaipur, the capital of Rajasthan got its name as The Pink City after it welcomed Queen Victoria's husband, Prince Albert in 1876 as the entire city was painted pink, a color that symbolizes hospitality. The moment you enter Jaipur, the first gates you see are pink & continuing your journey, you can feel the warm hospitality too.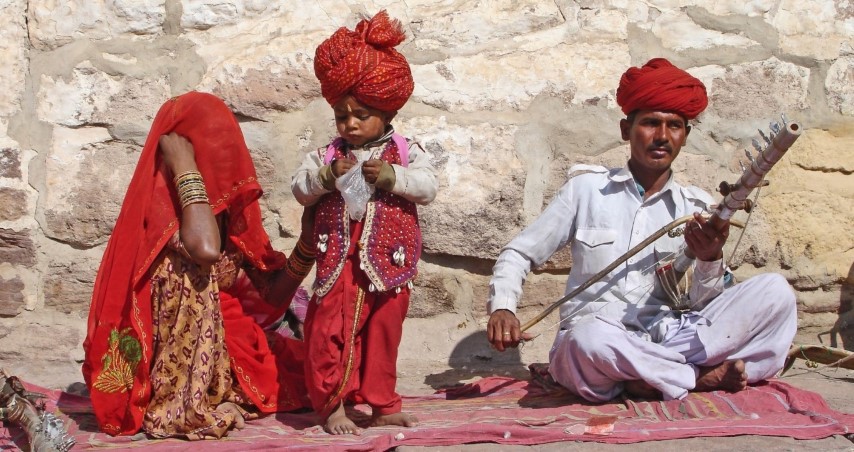 History
The Rajput ruler Sawai Raja Jai Singh II founded Jaipur in the 1700s and is surrounded by a city wall and several massive forts. Being one of the most prominent trade centers, it was considered ahead of its time due to the use of gridiron city planning based on the principles of Vastu Shastra and Shilpa Shastra.
Today, the former royal family has their residence at the City Palace at the city's heart. To enhance the beauty of Jaipur, the picturesque Hawa Mahal gazes on the bazaar through its the beautiful facade. And just out of sight, is the fairy-tale splendor of Amber Fort, the pride of Jaipur.
Things to do (Activities)
Explore Historical sites
The capital of Rajasthan, Jaipur is home to many magnificent & impressive
forts, palaces, gardens & temples, including City Palace, Hawa Mahal, Jal Mahal, Sisodia Rani Palace Garden, Ram Niwas Bagh, Nahargarh Fort, Galta Ji temple, Laxmi Narayan Temple, etc. Jaipur comes under the UNSECO world heritage site for housing beautiful Amber fort & Jantar Manter (the oldest observatory). When in Jaipur you will not only experience the grandeur of Amber fort but also can feel the rich & glorious history of Rajasthan, & its culture.
Jaipur by Night
A tour of illuminated Jaipur is a must to do thing when you are in Jaipur. The beautiful, iconic structures are gorgeously lit up after sunset. One should have a stroll along with the Jawahar Circle Garden, said as one of Asia's largest gardens, and the fountains in garden spring to life after 6 PM, which is a joy to watch. Do not miss the opportunity to explore the splendor & illusion of Amer Fort post evening, from where you can get to see the city skyline in all its glory.
Jaipur Wax Museum
Want to see how real a wax status can look alike? Why dream of Madame Tussauds when we now have it in our own Jaipur at the Nahargarh Fort. The museum houses the wax figures of royalty, historical figures, cinema, and sports celebrities, literature, art & culture under one roof.
Movie at Raj Mandir
Watching a Bollywood film is always interesting but what makes the difference at Raj Mandir is the authenticity of the theatre. Raj Mandir is one of the oldest theatres India has today in its name. The old-age styled screen and the color-changing ambiance of the theatre is a worth experiencing event, while in Jaipur.
Shopping
Jaipur is the paradise for a shopaholic, as it is home to some of the most famous bazaars of Rajasthan popular for jutis, antiques, jewelry, & textiles. One of the major bazaar in Jaipur and must-to explore is Zohri bazaar. The bustling lanes, joyful shopkeepers, welcoming you at their beautiful pastel pink shops are the limelight of the bazaars.
Chokhi Dhani
Chokhi Dhani can be said as the second name for the Rajasthani culture. It is located approximately 20 Km away from Jaipur city and known for its traditional village themed style resort made of village huts, complete with cow dung plasters and decorative wall paintings. While in Choki Dhani you can taste the delicious Rajasthani food, various cultural activities, along with their legacy of warm Rajasthani hospitality.
Nahargarh Fort
Built by Sawai Madho Singh, the Nahargarh Fort is located 6 KM outside the Jaipur city on Aravali hills and stands as the defensive fort of Jaipur. It is the finest example of the Indian-European architectural marvel that still stands strong. At Nahargarh fort, evenings are exceptional as watching the dusk from here gives panoramic views of the entire city of Jaipur.
Jaigarh fort
located on the Eagle Hill (Cheel ka Teela) and overlooking the Amber Fort, it was the defensive fort to Amber. At that time, the fort was considered as a storehouse of all the war amours, cannons, arms and ammunition, and known for housing the world's largest cannon on the wheels called 'Jaivana Cannon'. There are various other attractions within the fort like Laxmi Vilas, Lalit Mandir, Aram Mandir, and the Vilas Mandir.
Galtaji Temple
Galta Ji temple located 10 Km away from Jaipur is a complex of Hindu temples, and also known as monkey temple as the complex is home to many monkeys. Galta Ji is also famous for many sacred hot springs, and out of that Galta hot spring is one of the most prominent. It is said that the kunds never run dry.
Accommodation
List of the Accommodations available at the Destination
Sarovar Portico Jaipur
Sarovar Portico, Jaipur, a perfect abode for corporate and leisure voyagers, is situated in Vaishali Nagar
Shahpura House
Shahpura, set amidst exquisite green surroundings, is located 65 miles from Jaipur, Rajasthan
Pearl Palace Heritage
The Boutique guest house offers heritage style accommodations in Jaipur.
Ramada by Wyndham
Our Ramada Jaipur hotel near the Albert Hall Museum provides its guests with a winning combination of value, comfort, and convenience
The Fern-An Ecotel Hotel
The Fern Hotel, Jaipur, is a luxury hotel in Jaipur near Airport having 85 rooms, business hub, banquet halls and dining facilities.
Sarovar Premiere Jaipur
Sarovar Premiere, Jaipur, offers the best luxury accommodation available in the bustling city of Jaipur.
Trident Jaipur
Enjoy your stay at Trident Hotels, one of the luxury 5 Star Hotels in Jaipur. Book online to get amazing offers
The Oberoi Rajvilas (super luxury)
The Oberoi Rajvilas (super luxury)
The Oberoi Rajvilas. Spread over 32 acres of beautifully landscaped gardens, with traditional architecture
Rambagh Palace (super luxury)
Rambagh Palace (super luxury)
Rambagh Palace was the former residence of the Maharaja of Jaipur. Now a luxurious hotel
Peacock Rooftop
Want to have a 360-degree view of Jaipur? Peacock Rooftop restaurant is the place where you can take a glimpse of Jaipur at a single glance, along with their delicious vegetarian food items. The restaurant is based on the theme of Peacock, and its charming ambiance justifies the theme. Prior bookings need to be done.
Laxmi Mishthan Bhandar
Popular as LMB, located in Lahori Bazaar is famous for its kachoris, chaat, samosas, and sweets like ghevar and rasmalai. With roots going back to 1950s, it is famous both among locals and tourists, and has become something of a celebrity in the culinary world.
1135 AD
The elegant décor of 1135 AD justifies its name, and once you are here, it will bring you back to the golden era of the Rajputs. At 1135 AD, the gold enamelled walls, magnificent tables & regal chairs show some of the basics of Royal life.You will get a menu mix of Mughlai, Rajasthani and North Indian delights served on silver plates with silver cutlery to reflect royalty.
Narain Niwas Palace
Looking for a glamourous evening? Narain Niwas Palace is the place you need to go for a charming ambiance, and the buzzing evenings. The special royal thalis served at Narain Niwas Palace are a treat to the soul. The live traditional Rajasthani dance performance is an add on to their warm hospitality.
Handi
Located in central Jaipur, Handi is a treasure for a food lover looking for authentic tandoor & Mughlai cuisine. It is a reflection of the cuisine and culture of Rajasthan and offers a spectacular skyline view of Jaipur along with its delicious food.
Suvarna Mahal
Suvarna Mahal is the in-house restaurant of the Rambagh Palace and showcases the rich heritage of erstwhile rulers. Suvarna Mahal is renowned for its artistic ambiance, high ceilings, gilded mirrors, Florentine frescoes, along with its impeccable services. Dining here is an experience, and one should try at least one meal here while in Jaipur.
By Air
The Jaipur International Airport is called Sanganer Airport. There are domestic flight connections to and from Delhi, Kolkata, Mumbai, Ahmedabad, Jodhpur, Udaipur, and several other places frequently to Jaipur.
By Train
Jaipur is connected via rail from all major cities including Delhi, Agra, Mumbai, Chennai, Kolkata, Bikaner, Jodhpur, Udaipur, Ahmedabad, Bangalore, etc.
By Surface
One of the most convenient ways to travel to Jaipur is via road, and Jaipur is well-connected from all major cities of Rajasthan, and its adjoining states, including Delhi (280 KM), & Agra (240 KM).