Jodhpur
The Blue city of India! Jodhpur often also referred to as the cultural capital of Rajasthan and houses one of the most magnificent fortresses India has in its name, Mehrangarh Fort unsurpassed for its grandeur, elegance, and details. The narrow laned old city painted in blue is not less than a paradise when looked from the top of the Mehrangarh fort.
Jodhpur is bliss for travelers seeking a package full of culture, art, history, nature & on the top the food which gives Jodhpur an edge over other popular destinations.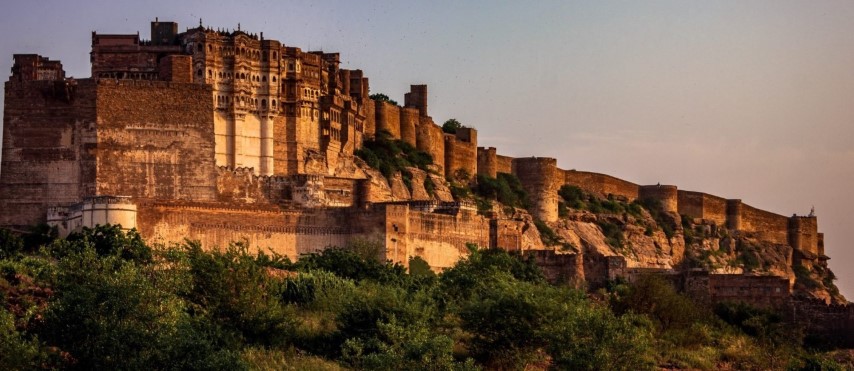 History
The Rajput chief Rao Jodha founded the city in 1459, and after conquering the surrounding territories, he built his kingdom which came to be known as Marwar (now Jodhpur). Being located on the strategic road linking Delhi to Gujarat, allowed it to profit from a flourishing trade in opium, copper, silk, sandalwood, etc.
The walled old city referred to as the Blue city, however, It remains a mystery how it got its name? Some say that the blue color was associated with the Brahmin caste, and most of the Brahmins were living in the old city, also called Brahmapuri, and driven its name as the blue city. On the other hand, some say that It was the insect repelling color, and used by people to keep their houses safe from insects.
Things to do (Activities)
Explore Historical sites
Jodhpur is home to some of the marvelous architecture from Indian history narrating the sagas of those time rulers including the Mehrangarh Fort, the milky white cenotaph of Maharaja Jaswant Singh II, also known as Jaswant Thada, The Umaid Bhawan Palace, & Clock Tower.
Camel Safari
Camel safari is one of the best ways to get a taste of rural desert life. It is a thrilling and exciting experience to ride the ship of the deserts and to go deeper into the tribal culture. You will be accompanied by a herder narrating some interesting facts & stories about the culture of Rajasthan.
Shopping
Jodhpur is known for its hustling & bustling bazaars and their specialties such as Sadar Bazaar (Ghanta Ghar market) for the finest variety of spices, Mochi Bazaar as a one-stop destination for Jodhpuri jutis, Umaid Bhawan Palace market for antiques, Nai Sarak market for Bandhej Fabric, & Tripolia Market for wooden Handicraft, silver jewelry, brass items, & colorful apparels.
Zipline
If experiencing the aerial view of the lakes and battlements of Mehrangarh Fort fascinates you, then, the Zipline is the opportunity to meet your desire and watch the mesmerizing view of the fort & the walled city doped completely in Blue.
Heritage walk
If you love knowing the different aspects of history, & culture of a place then, the guided Heritage walk is a must for you. It will help you to feel the presence of glorious past of Jodhpur in its narrow laned old city, splendid architecture & warmness of passing by people.
Bishnoi Village
Located about 30 Km from Jodhpur is the gateway to getting a glimpse of the rich cultural life of Marwar (now Jodhpur). Bishnoi Village is known for its eco-friendly inhabitants called Bishnois, following a set of 29 principles/commandments given by their Guru Jambheshwar. They make every effort to conserve the environment and the natural way of life.
Balsamand Lake
Balsamand Lake is an artificial lake designed as a water reservoir to provide water to Mandore (the first capital of Marwar), and today stands as a fine picnic spot with beautiful picturesque scenery and surrounded by lush green gardens. It also houses the Balsamand Lake Palace on its shore.
Toorji Ka Jhalra
Toorji ka Kamra (stepwell) was built in 1740 by the queen consort of maharaja Abhay Singh. This 280-year-old stepwell is an intricate design showcasing the traditional water management system. Today used by locals, it is surrounded by houses, cafes, etc. It is also a great spot to get amazing pictures.
Bullet Baba temple
Bullet Baba Temple (also called Om Banna) located approximately 53 Km from Jodhpur on Jodhpur- Pali Highway is known for the very mysterious deity in form of a Bullet (Royal Enfield 350 CC). If you believe in the power of spirits, then this place needs to be on your list to visit while in Jodhpur.
Camping at Osian
Dreaming of spending a night in a camp on the dunes & the desert? The Osian located approximately 70 Km from Jodhpur, is an opportunity for you to fulfill your long-awaited dream of staying in a camp. Watching a sunset, & a camel ride completes your stay like a dessert on the Indian Platter.
Khimsar Fort
About 100 Km from Jodhpur lies the unspoiled Khimsar Fort, a true reflection of the glory & the royalty of Kings of Jodhpur. Built by Rao Karamsji (the 8th son of the founder of Jodhpur Rao Jodha), this magnificent fort has a stronghold to date, which can be seen in the architecture of its fortified castle.
Accommodation
List of the Accommodations available at the Destination
Lords Inn, Jodhpur
Located in the city of royal legacy and heritage, Lords Inn Jodhpur welcomes all to this Golden city of Rajasthan.
Ratan Vilas Jodhpur
Located in the pulsating heart of town, the Ratan Vilas Jodhpur is a mere 10 minutes away from the Sadar Market and its chaotic traditional Indian Bazaar charm.
Radisson Jodhpur
A pure vegetarian boutique hotel that blends ancient-style architecture with modern amenities for a memorable stay
Park Plaza, Jodhpur
Park Plaza, Jodhpur, by the Radisson Hotel Group, managed by Sarovar Hotels.
The Fern Residency Jodhpur
The Fern Residency Jodhpur
The Fern Residency Jodhpur is a luxury business hotel in Jodhpur located near Jodhpur Railway Station
Ajit Bhawan
First Heritage Hotel in India. We are the top heritage hotels in Jodhpur. A luxury resorts in Jodhpur
RAAS
Welcome to RAAS Hotels. Select one of the hotels below to know more. Be a RAAS Hopper
Taj Hari Mahal
Spread over six acres of landscaped lawns and manicured gardens, Taj Hari Mahal celebrates the grandeur of Rajput and Mughal architecture
Umaid Bhawan Palace
Built between 1928 and 1943, Umaid Bhawan Palace is a magnificent piece of Rajasthan's heritage, and a symbol of new Jodhpur.
Restaurants
Jodhpur is world-wide famous for its varieties of spices and the delicious lip-smacking food, which gives another reason for travelers to visit the blue city. Jodhpur will satisfy your taste bud and a treat to your tummy! Some of the places are listed here which you should not miss, while your adventure in Jodhpur.
Makhani Lassi at Mishrilal
Makhani Lassi at Mishrilal
Makhani Lassi at Mishrilal can be considered as the jewel on the crown and plays a very prominent role to make Jodhpur stands out from other destinations. The lassi is one of its kind and extremely popular among the locals so does the tourist.
Janta Sweet Home
Jodhpur is the origin place of some of the most finger-licking street foods, especially Mawa Kachori, & Mirchi Bada- must try! Once you are at Janta Sweet home, you will find yourself choosing through the different kinds – Mawa Kachori, Pyaaz Kachori, Plain Kachori, and the like.
Jharokha 360
The open-sky restaurant of Stepwell House (also known as Hotel Haveli) offers excellent North Indian Food along with the stunning view of Mehrangarh Fort. The view from the restaurant becomes more fascinating once the sun starts setting down behind the fort, and the town starts lighting up. An amazing view!
Gypsy
When we talk about a Rajasthani traditional meal, here comes the concept of Thali based on numerous delicacies along with roti (Indian Bread). The USP of this restaurant is its Thali consisting of 29 dishes, and one must try it while in Jodhpur.
Hanwant Mahal
Located on the top of Umaid Hills, the Hanwant Mahal offers a spectacular view of the Umaid Bhawan Palace & majestic view of the city. Dinner at this royal restaurant is truly a regal experience that will bring you back to the bygone era of Maharajas & their glory.
Baradari
The in-house restaurant of the heritage hotel Raas, serves a range of cuisines including Thai, and Mediterranean, and offers a beautiful view of the fort. But once you will have the food on your platter, you will forget the surroundings, and it will be only you and your food which is prepared using organic produce from the chef's kitchen garden.
By Air
Jodhpur airport is located 5 Km away from the city center and has direct flights from Delhi & Mumbai.
By Train
Jodhpur has good railway connectivity to its adjoining towns, cities & states including Jaipur, Udaipur, Delhi, Mumbai.
By Surface
Jodhpur has good roadways and well-connected from all major cities of Rajasthan & adjoining states including Delhi.