Kasol
Kasol is a picturesque village in the Parvati Valley of Kullu (Himachal Pradesh) and is on the banks of the River Parvati. Kasol is located 42 Kms from the nearest airport at Bunter and enroute to Manikaran 3.5 Kms distance.(Manikaran is a Holy place for Sikhs- known for hot water springs). Tourists find it an exhilarating experience to take treks around the villages here. Kasol is basically untouched by luxury hotels and restaurants but the locals offer warm hospitality. A bridge separates the new and the old part of Kasol. It is an ideal holiday destination for those looking for peace as well as adventure.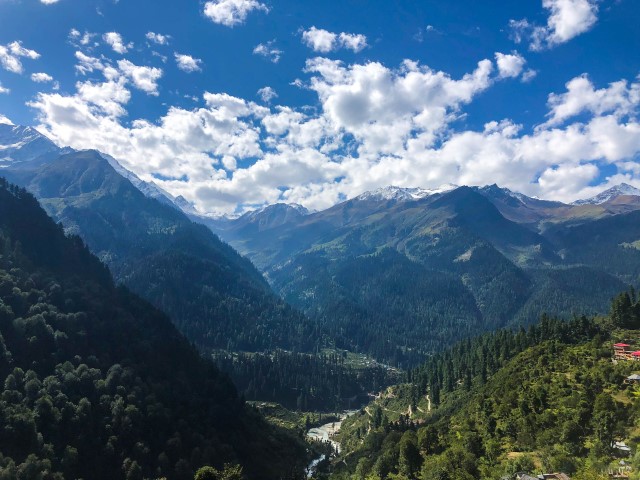 History
Traditionally the village was inhabited by the Shepherd community.However for the past three decades the village became the favorite of tourists from Israel and some of them settled here. Two villages in Himachal Dharamkot (Kangra) and Kasol (Kullu) are called Mini Israel. The Israeli get along with the locals as the former are looking for spiritual salvation and adventure tourism.
Things to do (Activities)
Kasol is known for coniferous forests, clear mountain streams and hospitable locals.
Manikaran Sahib Gurudwara
Guru Nanak Dev Ji visited here hence it is an important pilgrimage site for the Sikhs. The hot springs are considered sacred. It is open 24 hours.
Parvati River
A Glacier feeds the river which flows through the valley and ends into Beas Rivernear Kullu. Tourists will enjoy the river gurgling over rocks. The place is ideal for picnics and adventure lovers and for fishing in its waters.
Tosh Village
At an altitude of 2400m Tosh is on the banks of River Tosh. The best time for a visit is in winter. The trek here is an experience by itself.
Nature Park
The park is located on the banks of the River Parvati. It is an ideal place for jogging and strolling and for the food kiosks .
Kheer Ganga Peak
This is a holy place dedicated to Lord Shiva. It has a Shiva Temple, hot water springs, lush green hills with easy trekking routes.
Tirthan Valley
60 Kms from Kasol and is located at Banjar. It has a National Park – UNESCO heritage site. It is a peaceful place. One can camp here by the riverside,trek through the jungle or angle for trout.
Naggar Village
This was the ancient capital of the Kullu rulers. The houses made in wood and stone take one to medieval times. The Naggar Castle here has an Art Gallery featuring the work of the Russina artist – Nicholas Roerich. One can also fish in the Parvati river here.
Buntar Town
30 Kms from Kasol in Kullu, lies the town of Buntar. A good place for trekking, spirituality, nature park and temples plus a waterfall to name a few. It also has the airport to connect Kasol to other cities.
Cafes and Israeli settlements
One may also like to visit the many cafes and villages where Israeli tourists came here and stayed back.
By Air
Bhuntar Airport in Kullu 31 Kms away is the nearest airport to Kasol. Bhuntar connect to three cities i.e. Delhi, Pathankot and Shimla. The next airport is Chandigarh (157 Kms away) from where connections to other cities are available.
By Train
Roads connect to neighbouring states i.e. Delhi, Haryana and Punjab. Also to cities Pathankot, Shimla, Kangra, Solan and Dharamsala.
By Surface
The nearest railway station is at Pathankot ( 150 Kms). Many Express Trains stop at Pathankot from major cities across India. Chandigarh (310 Kms) is another railway station for more connections.