Khajuraho
Khajuraho Town is about 175 Kms from Jhansi. The Chandela Dynasty who ruled here in the 8th & 9th Century built a group of 85 Temples in an area of 20 sq. Kms. Presently only 25 have survived in 6 Sq. Kms. The major temple is The Kandariya Mahadeva Temple. It is believed the temples were built by young men who lived as hermit and the erotic sculptures helped them learn about the role of a householder. Khajuraho is located in a forested plain in Bundelkhand in the State of Madhya Pradesh, India. Khajuraho is an important tourist destination and has much more to offer than just the temples.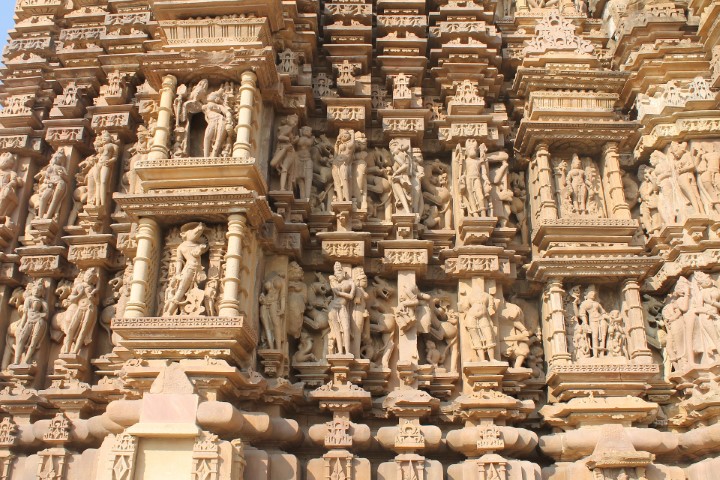 The name Khajuraho is from Sanskrit words "Khajur " meaning date palm and "Vahak " meaning a carrier i.e. Khajur-Vahak. Another meaning of the name "Khajur" could be "Scorpion" i.e. for Lord Shiva who carries a garland of snakes and scorpions around him.
Khajuraho was first mentioned by a visiting Chinese pilgrim in 641 A.D. who encountered many worshipping Brahmins in Hindu Temples. Again in 1022 AD a scribe accompanying the marauding forces of Mahmud Ghazni mentioned Khajuraho as being the capital city of the then Hindu state . The temples here were frequented by pilgrims in the 12th century till the Muslim Sultan Qutb-ud-din Aibak seized the Chandela kingdom in the 13th century and the subsequent Muslim dynasties controlled Khajuraho till the 18th century. Because Khajuraho was sitauted in a remote region, the Hindu and Jain temples were spared destruction from the Muslim rulers. For centuries thereafter the temples got hidden by thick forest and vegetation. In the early 19th century a British Surveyor T.S. Bart re-discovered the temples and put them on the public domain. Around 1860 a British Surveyor- Alexander Cunningham – grouped the Khajuraho temples into The Western Group; Eastern Group and Southern Group.
Things to do (Activities)
Temples
Only 24 temples out of 85 survive today. Visit Kandariya Mahadeva Temple; Lakshmana Temple; Chaturbuj Temple; Devi jagdamba Temple; Parsvanath Jain Temple; Varaha Temple; Adinath Temple; Nandi Temple; Vishwanath Temple; Javeri Temple; Chitragupta Temple; Shantinath Temple; Javari Temple; Vaman Temple; Parvati Temple; Chausath Yogini Temple; Laxmi Temple; Matanageshwar Temple; to name some of them.
Raneh Falls
21 Kms from Khajuraho this 30 feet deep canyon has an attractive number of small and large waterfalls. The area is surrrounded by gren forest. The falls are open from 09:00hrs till 17:00hrs every day. It is a ideal place to relax and enjoy the sound of the gushing waters.
Beni Sagar Dam
This 8 sq. Km. Dam stands on the River Khuddar at a distance of 3 Kms from Khajuraho. One can enjoy beautiful sunsets and sunrise from here and the greenry around the dam gives a feeling of peace and tranquility. The dam is open from 06:00hrs till 22:00hrs daily.
Pandav Waterfall
The falls are on the banks of River Ken in Panna District and fall from a height of 30 meters. It is shaded by trees and belief is The Pandavas of epic Mahabharta had visited the place. The water collects in a pool below. Good place to relax and enjoy its beauty. The falls are close to Reneh Falls. Open for the public from 06:00hrs till 18:00hrs daily. The Pandav Falls are 40 Kms from Khajuraho.
Panna National Park
95 Kms from Khajuraho is Panna Tiger Reserve founded in 1981. Besides tigers it also has several species of wild life. The park has a waterfalls called Pandav falls on its precincts and is a good place for nature lovers. The Park is open from 06:00hrs to 17:00hrs every day.
Ajaygarh Fort
65 Kms from Khajuraho in Panna District is this ancient monument at a height of 688 meters. It was once the fortress of the Chandela Kings. The Fort is surrounded by the Vindhya Ranges and gives a birdseye view of the Ken river below. The Fort is open from 06:00hrs till 18:00hrs every day.
Kalinjar Fort
Built by the Chandela Rulers this historical Fort is on a height of 244 Meters on a hill in the Vindhya ranges. It is 105 Kms from Khajuraho and is open to the public gtom 06:00hrs till 22:00hrs every day.
By Air
Khajuraho has a newly built domestic air terminal located 2 Kms from the city.. Flights operate from Varanisi, Delhi, Mumbai, Bhopal and other cities in India.
By Train
Khajuraho is connected to Delhi by rail. However for more options one can entrain from Mahoba which is 63 kms away from Khajuraho. Important trains to Mumbai, Delhi, Varanisi, Gwalior, Kolkota, jabalpur and other Indian cities operate from Mohoba.
By Surface
Khajuraho is connected by road with places such as Orchha, Jhansi, Satna, Chhatarpur, Jabalpur, Bhopal, Indore, Gwalior, Agra, Allahabad, Varanasi and many other ckities in India.