Manali
One of the most popular hill stations in India is Manali. Even when you talk about hill stations, Manali tops the list of the most visited destinations in India. Undoubtedly, it is a gorgeous hill station with the Beas river flowing by the side of the mountains and the landscape covered with deodar trees covering the landscape. Manali surely is a paradise when it comes to the mountains. Be it any season, Manali in summers or Manali in winters, the charm of this beautiful hill station remains unmatchable.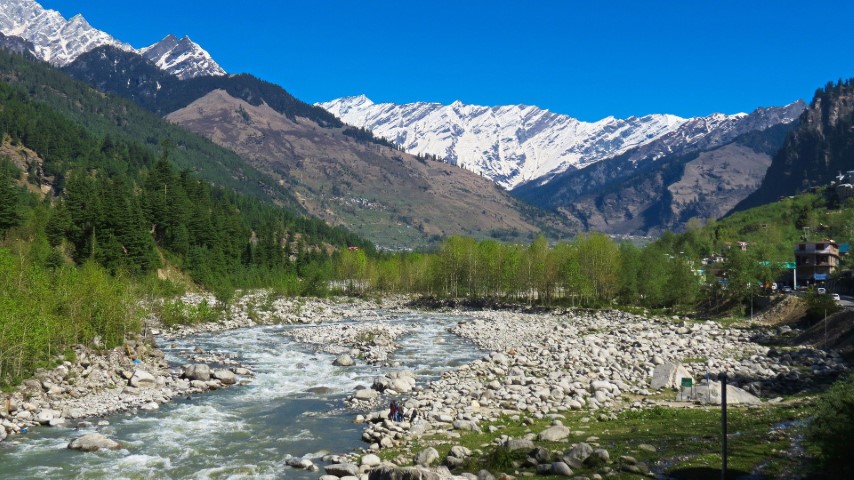 History
Manali lies in the North of Kullu Valley in Himachal Pradesh. The history of Manali is very deep-rooted. The word Manali means "abode of Manu". According to Hindu mythology, Manali was the hometown of the Brahmin lawgiver Manu. Hence the place is named after him. The valley is also often referred to as the 'Valley of the Gods'. Old Manali village has an ancient temple dedicated to sage Manu. You will also find a lot of temples in Manali which hold importance in Hindu Mythology.
Things to do (Activities)
Sightseeing
Manali is extremely popular in the country for its scenic beauty. The first and foremost thing to do in Manali is going for sightseeing. You can visit the banks of the Beas river, visit Solang valley, take a walk in the old Manali town, take a cab and visit the closest hilltop and enjoy the breathtaking views Manali has to offer. For your things to do in Manali list, scenic views should come first
Go on a spiritual ride
Not just for adventure and sightseeing, Manali is also popular for its temples. If you are looking for things to do in Manali, you can definitely visit temples of historic importance. Hidimba temple is the temple situated amidst the mountains in Manali, it tops the list of most visited destinations in Manali because of its unique architecture and its surroundings. One should definitely visit the temple in Manali. After Hidimba Devi temple you can visit Vashishta temple and enjoy the hot water springs there.
Adventure sports
For adrenaline junkies too, Manali is the right place to visit. If you visit Manali in winters, you can enjoy snow sports at Solang valley at a very affordable price. The sports include snow biking, skiing, snowboarding and much more. If you are visiting Manali in summers, then you can opt for activities like paragliding, river rafting, rock climbing etc. Be it Manali in summers or Manali in winters, for any kind of adventure activity Manali is the perfect destination.
Trekking and Hiking
With numerous mountain peaks around, Manali is also popular for being a trekking destination. If you are fine with trekking and hiking, the place offers you some of the most gorgeous treks. You can opt for Hampta Pass Trek, Chandratal Lake trek, Deo Tibba Trek and many more. Manali in winters make these treks snow covered which increases the level of excitement for travellers. If you like trekking, add these places to your things to do in Manali list
Accommodation
List of the Accommodations available at the Destination
Solang Valley Resort
Solang Valley resort is situated near the ski slopes at Solang Valley. It is an ideal place for the visitors looking for complete holiday in tranquility.
Span Resort & Spa
Span Resort & Spa is the first and only 5-star river-side resort in the Kullu valley. Convenient drive from Chandigarh, it is further connected by excellent road to the National Capital city of New Delhi.
Manuallaya
ManuAllaya embodies the best of Himachal iconic history, art, and culture. Fusing modern design with traditional elegance, ManuAllaya is a stylish, contemporary luxury resort
The Himalayan
Perched at an elevation of 2003 metres & built in the Victorian Gothic Revival style, The Himalayan is an exclusive boutique castle resort with an al fresco swimming pool overlooking Manali town.
Apple Country Resort
Welcome into the land of your dreams…. into the land of lush greens and enchanting mountains, silent valleys and bubbling creeks, songbirds, towering coniferous trees and the sweet scent of apples.
Golden Tulip Manali
The Unforgettable natural beauty of Kullu manali & warm Hospitality await visitors to the Golden tulip Manali 4 star Hotel in the heart of Manali.
Honeymoon Inn Manali
Just a 1 km from bus stand, the hotel commands an excellent view of the snows & the wide valleys. The extensive gardens offer a fabulous apple orchard to relax and rewind.
The Manali Inn
4 star property Ideal location: Right on the National Highway facing river beas & greenery (Buses stops at the gate on request) Hotel centrally heated, comfort of two lifts
Amara Resorts
Amara Resorts, Manali a luxurious resort invites you to enjoy the world class amenities, spread over 3,000 square yarda covered with orchards and fields.
Restaurants
List of Popular Restaurants in Manali
The Johnson's Cafe
The Johnson's cafe is more than just a restaurant. It's an experience under one roof. The finest wine, gourmet food, a perfect ambiance. At Johnson's cafe, we make sure you go back with a feeling of satisfaction and want to keep coming back for more.
Saba
SA-BA offers a true array of authentic north Indian cuisine. Cooked and served by the experienced staff, the menu has been designed after years of research and experienced gained, also each delicious meal is prepared with pride and served with care…!!
La Plage
Authentic French Cuisine Restaurant in the heart of apple orchards with view of the Himalayas by the riverside of Beas. We provide an exotic choice of dishes served along with best wines to suit and enhance taste buds. 'a culinary tour de force'
Open Air Restaurant At Apple Bud Cottages
Open Air Restaurant At Apple Bud Cottages
The location of the Apple Bud Cottages And Hotel is beautiful, and rooftop restaurant has an amazing view of ice covered mountains.
Fat Plate Cafe
A cafe who's food is its soul. "For hunger begins in your stomach and ends at your soul." Serving European and Indian cuisine .
Renaissance
We have authentic Italian and Mexican food. We have car parking ,packing and delivery around in old Manali.
By Air
The nearest airport is located in Bhuntar in Himachal Pradesh which is at a distance of 52 km from Manali. You can reach Bhuntar and then either take a taxi or local transport to reach Manali.
By Train
The nearest railway station to Manali is Pathankot Railway station which is at a distance of 293 km. Once you reach there, you may have to take a taxi to reach Manali.
By Surface
Manali is well connected to all the places through the road network. You can easily reach Manali by Bus or by taxi. Public transport is also adequately available in and around the area.