Nainital
Nainital: Nainital also referred to as a shimmering jewel in the Himalayan mountains & blessed with picturesque & pristine Mother nature. It is the home of the Eye shape lake called Naini lake and therefore got its name as Nainital.
If you are looking to indulge yourself in the mesmerizing beauty of nature then, Nainital is truly the treasure for you, which you will cherish for a long! It is one of the most visited hill stations of the Kumaon region and is surrounded by lakes and nature's bounty. The endless scenic beauty is a perfect romantic gateway and makes you fall for its lush greenery & freshness of its surroundings.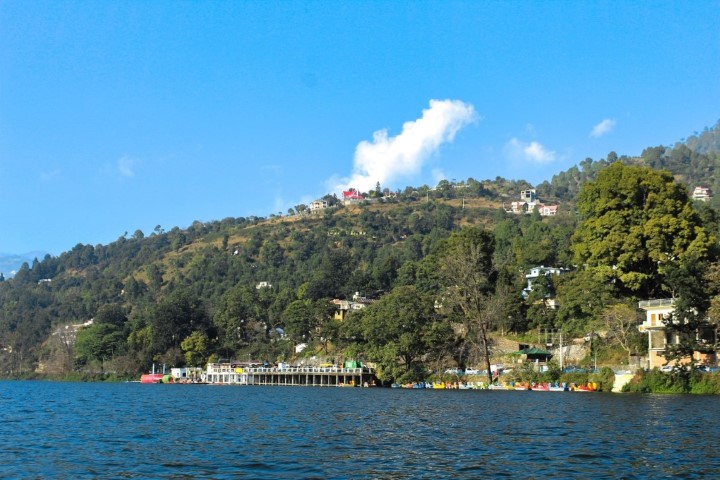 History
Founded by a sugar trader P. Barron in 1841 Nainital is the home to the construction of the first European house known as Pilgrim Lodge. And with the summer capital of the erstwhile United Provinces, it has elegant colonial structures that enhance the beauty of this place.
According to the legends, it is believed that Nainital (Lake of the eye) was formed after the falling of the Eye of Goddess Sati. It is said that after her death, out of grief & sorrow, Lord Shiva carried her body, and roamed around the universe. Lord Vishnu had cut her body into 52 parts, using his Chakra, which fell on earth to become the Shakti Peeths, and the place where the eye of Goddess fell, become known as Nainital. To date, it is considered one of the Shakti Peeth & thousands of devotees visit the Naina Temple to worship the Goddess.
Things to do (Activities)
Boat Ride in Naini Lake
Naini lake, considered as the queen of lakes in North India, is known for its pristine beauty. The boat ride is one of the best ways to get the 360-degree spectacular view of its fascinating surroundings. While paddling the boat, the chilled breeze will blow away your heart & you will be amazed by the divine beauty of nature.
Gorkhal Temple
Gorkhal is the temple of Lord Golu, the local deity of Kumaon, and refers to the water pond for horses. Do you remember the movie Vivah featuring Sahid Kapoor & Amrita Rao? It has some shots of this temple, where the couple spend quality time to know each other, so why not, let you spend some good time with your beloved?
Tiffin Top
Tiffin top is also referred to as Dorothy's seat, and gives you an option of a short hike of about 4 km from Nainital and offers a spectacular 360-degree view of Nainital city and nearby Kumaon hills. If you enjoy nature's calling and love capturing the divine beauty of nature in your photographs, this is the place for you to must visit while in Nainital.
Tagore Top
If you love Literature, & admire the work of Guru Rabindranath Tagore, Tagore top is the place you must visit while in Nainital. He has written some part of his very renowned work Geetanjli here. The cottage where Tagore stayed up on a hilltop, is known as Writer's Bangalow, and which is now converted into a hotel.
Naina Park
Naina peak is the highest peak in Nainital and also referred to as the China peak. It offers a splendid bird's eye view of Nainital & its surrounded hills. It is a bliss for travelers who love hiking or trekking. You can enjoy a long walk into the lush green forest and can feel the freshness of the surroundings.
Shopping
Bara Bazaar, The Mall Road, Bhotia Bazaar, & Mallital are some of the best bazaars in Nainital, and known for homemade eatables like aromatic jams, squashes, juice concentrates and fruit preservatives available at a reasonable price. You can also find impressive pieces of home-made candles.
Paragliding in Naukuchiatal
Naukuchiatal or the lake of Nine corners, not only offers unspoiled beauty of nature but also offers a thrilling adventure to its visitors. Yes, if you are an adventurous person, then, Paragliding is for you to have a 360-degree panoramic view of the lush green hills with a stunning lake at the center of its landscape.
Kaichi Dham
Located about 17 Km from Nainital is the Ashram of famous Shri Neem Karoli Baba Maharajji. The Dham is nestled between the green hills & offers a peaceful environment to its devotees. Do not be surprised to learn that Steve Jobs, Mark Zuckerberg, Larry Brilliant, and Jeffrey Skoll, co-founder of eBay, are some of the big names who were influenced by Neem Karoli Baba and came to India to visit the Ashram.
Mukteshwar
Located about 50 Km from Nainital, is the home to the 350 years old Shiva temple known as Mukteshwar Dham, giving the town the name of Mukteshwar. The temple locates on the top of the town & offers astonishing and stunning views of the Himalayan range. You can also do rock climbing & rappelling at Chauli ki Jali. Different treks can be done here, making it a perfect adventurous gateway.
Jim Corbett National Park
The national park is located 65 Km before Nainital and known as one of the oldest & prestigious National Park of India. If you love spotting the endangered species at their natural habitat then, a Jeep safari in Jim Corbett is recommendable. It can be done either in the morning slot or in the evening. The dense forest offers amazing & picturesque landscapes, which will surely amaze you.
Accommodation
List of the Accommodations available at the Destination
Vikram Vintage Inn, Nainital
Vikram Vintage Inn, Nainital
Shervani Hilltop, Nainital
Shervani Hilltop, Nainital
The Earl's Court by Leisure Hotels
The Earl's Court by Leisure Hotels
The Naini Retreat, Nainital
The Naini Retreat, Nainital
Bara Bunglow Gethia, Nainital
Bara Bunglow Gethia, Nainital
Sakley's,Nainital
Dated back to 1944, Sakley was started by a swiss Chef known as Salcheli, which is the oldest bakery in the town. With its pastels & floral prints, it preserves the memories of the Old & unspoiled Nainital. It is popular for its home-style pastries & cakes. And if you are an espresso lover, give it a try, you will not be disappointed at all.
Boat House Club, Nainital
Boat House Club, Nainital
Located in Mallital & one of the oldest clubs in India, the Boat House club brings to you, elite lakeside eating and drinking options that will make you feel like royalty. The lip-smacking food & the picturesque view of the tal, makes this club stand out from the rest. Lemon Chicken, Chicken Mughlai, Paneer Lababdar, and Malai Chicken Tikka are strongly recommendable.
Machan, Nainital
If you want to have a delicious meal without losing the beautiful landscape, this place is for you. Machan is a fine dining restaurant and offers a finger-licking menu to satisfy your hunger with a pocket-friendly price. The Mutton Roganjosh with nan, & fried prawns are stands out from their delicious food menu.
Chandani Chowk, Nainital
Do not get surprised if you see the famous Red Fort of Delhi in Nainital. Yes, the biggest highlight of this restaurant is its name, Chandni Chowk and its resemblance to the Red Fort. However, inside the restaurant, you will find a typical village setting that is unique. The food is delicious and will surely remind you about the narrow lanes of Chandni Chowk.
Sonam Fast Food, Nainital
Sonam Fast Food, Nainital
if you are a die-hard street food lover then, Sonam fast food corner at Bhutia (Tibetan) market is a must to eat for you. This hole-in-the-wall kitchen is famous for its fabulous momos (dumplings) and noodles, and always occupied by the foodies, be it local or the tourist.
Embasy,New Delhi
If you get tired of exploring the shops in Nainital and look to have a delicious & satisfying meal. Have a dine-in at Embassy restaurant, which is one of the oldest restaurants in Nainital and offers great food at a reasonable price. The appetizing food will surely fulfill your hunger, making you happy.
By Air
The nearest airport is Pantnagar airport and is about 70 Km from Nainital. The airport has regular flights from Delhi, and after that, you can hire a taxi to reach Nainital.
By Train
kathgodam is the nearest railway station and located 35 Km away from Nainital. It connects Nainital with Delhi, Dehradun & Howrah. Haldwani is another option for you if opted to travel by train.
By Surface
The roadway is one of the most comfortable & convenient ways to reach Nainital. Regular roadways buses run from Delhi, Agra, Dehradun, Haridwar, Lucknow, Kanpur & Bareilly To Nainital.