Shimla
Popularly known as the queen of hills, Shimla is a paradise for travellers. In India, when we think of a hill station, the first name that pops in our head is Shimla. Surrounded by beautiful mountains, covered in snow during winters and the streets reflecting the architecture of the British era, the place has its own vibe and it makes Shimla one of a kind destination. As a traveller, you would love the different places to visit in Shimla. The place offers a lot to the travellers in all the seasons. Shimla in winters is a paradise and Shimla in summers is a delight for a vacation.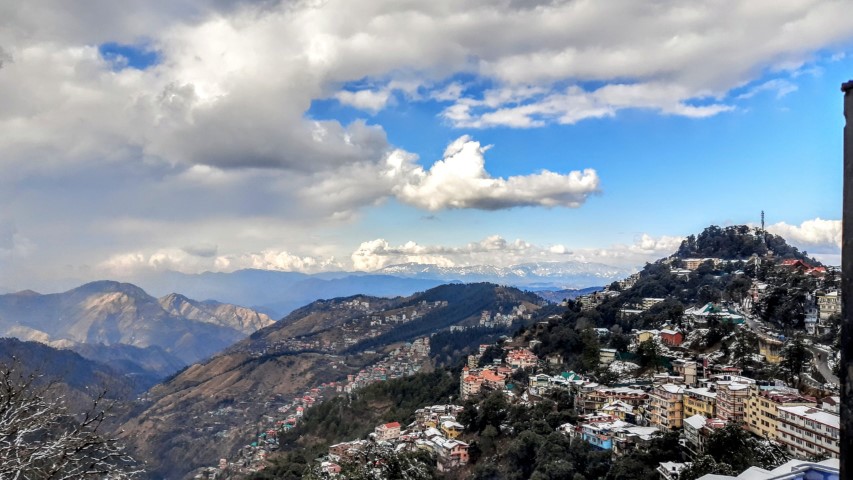 History
Shimla is the capital of Himachal Pradesh since 1966. After Independence, Shimla became the capital of Punjab and was later named the capital of Himachal Pradesh. Shimla has been blessed with all the natural bounties one can think of. In 1903 a rail line was constructed between Kalka and Shimla. From then it has been the favourite spot for spending summers and winter vacations.
Things to do (Activities)
Take a ride in Toy Train
The Kalka Shimla toy train is amongst the most popular things to do in Shimla. The train starts at Kalka and moves through beautiful mountains and takes you to the queen of hills in the most leisure way. It covers 102 tunnels, 864 bridges and 919 stunning curves during the journey. The ride covers a total of around 60 miles and takes around 4 to 5 hours to reach the destination. If you are looking for some interesting things to do in Shimla then this toy train should top your bucket list.
Rejoice the British Architecture
If you are someone who wants to have a laid-back vacation and you want to indulge in some architectural journeys, then do visit the Viceregal Lodge. The Viceregal Lodge or the Rashtrapati Niwas is like a mini-museum of British colonial rule. This place has a beautiful architecture to observe and move back in time. It also has a collection of ancient antiques and photographs from that period. You can also visit the Centre for Advanced studies and take the guided tour there to indulge in the vibe of the British architecture.
Adventure Activities in Kufri
Kufri is 15 kms away from Shimla. You can easily reach there by taxi or by a public bus. Kufri is a paradise for people who are seeking some adventure while visiting Shimla. To reach Kufri, you can choose to take a horse ride or walk on your own. In the summer season, there are different activities available like horse riding, bubble walking, small games etc. During the winter season, the place is mostly covered with snow and you may opt for activities like skiing or riding a snow motorbike. If you are looking for adventurous things to do in Shimla then Kufri is the place for you.
Shopping spree at the Lakkar Bazar
The mall road of Shimla is a place of charm. If you are looking for things to do in Shimla, one of the things could be visiting and exploring the mall road of Shimla. Along with the mall road, one should not miss shopping at Lakkar Bazar. You will get authentic wooden items there handmade by the local Himachali population. You would enjoy even walking through the streets.
Accommodation
List of the Accommodations available at the Destination
Hotel Satyam Paradise
Hotel Satyam Paradise, does believe in making your stay a hospitable one, but it also believes in making your journey to the hills a complete experience.
Honeymoon Inn Shimla
It is a quaint, little resort with every room offering you a view of the breathtakingly beautiful deodar woods and a lush green valley.
Combermere – In the Heart of Shimla.
Combermere – In the Heart of Shimla.
Hotel Combermere is an excellent choice for travellers visiting Shimla, offering a family-friendly environment alongside many helpful amenities designed to enhance your stay.
Hotel Willow Bank – Achieving Nirvana.
Hotel Willow Bank – Achieving Nirvana.
Willow Banks was established in the year 1871, a landmark estate which spells history and exemplifies an era of gracious living.
Clarkes Hotel – Reminiscent of History
Clarkes Hotel – Reminiscent of History
Located on the Shimla Mall Road, Clarkes Hotel is an oasis of calm on the bustling promenade. This Heritage hotel has recently been upgraded to Grand Heritage category and is one of the oldest hotels in Shimla.
Hotel Marina – A Stay to Remember
Hotel Marina – A Stay to Remember
HOTEL MARINA, a luxury boutique hotel located amidst the lush green landscape of Shimla, is a unique property with a rich history.
The Oberoi Cecil – In the Lap of Luxury
The Oberoi Cecil – In the Lap of Luxury
The hotel is located in Shimla, the gateway to the majestic Himalayas. Downtown Hotel with Colonial styling, 1 km from Shimla Station & 22 km from Jubalhatti-Shimla Airport.
Fairmount – True Life of Shimla
Fairmount – True Life of Shimla
Located within a 10 minute's drive from the Mall Road, Hotel Fair Mount features multi-cuisine restaurant, seminar hall, games room and free Wi-Fi.
Snow Valley Resorts – The Grandeur of Shimla
Snow Valley Resorts – The Grandeur of Shimla
Located in Ghora Chowki, Snow Valley offers a modern stay to its guests. Have a pleasant stay experience in a plush property and enjoy the premium services here.
Restaurants
List of Restaurants in Shimla
The Brew Estate
The Brew Estate is the first microbrewery of Himachal Pradesh, as Shimla gets more microbreweries, we will make sure that the Brew Estate remains on the top as the best restaurants in Shimla.
Cafe Simla Times
Great food & coffee to keep you going until its time for wine. And if you do lose track of time the music and magical views of the hills are all to blame!
The Devicos
The Devicos offers a special experience, it is one of the finest dining places. At Devicos we have a menu ready to cater to any of your cravings in an atmosphere that is uniquely comfortable and family friendly.
Baljees & Fascination
Shimla have many old/legendary restaurant/eatery and Banjees is one of them, situated at mall road it has two sections,dine in restaurant and a sweet shop outside serving take away and quick snack
Honey Hut
Little place at the heart of Shimla. Good service, quality coffee and beautiful view. Also a lot of honey and cakes available.
Qilaa Restaurant
Qilaa Restaurant is a casual dining restaurant serving a variety of delicious preparations. A great place in Ram Bazar, it is praised for its stylish presentation and is a nice joint to visit when one is looking to satiate hunger pangs with tasty, hygienic food.
By Air
The nearest airport to Shimla is the Chandigarh airport. You can reach Chandigarh airport from anywhere and then take a train or a cab to reach Shimla
By Train
The nearest railway station from Shimla is the Kalka Railway station. The railway station is well connected with the whole country. You can either take Toy train from there or take a cab to reach Shimla.
By Surface
Shimla is well connected through the road network. You can visit Shimla on your own vehicle or by a cab.