Shirdi
Shirdi is a small town in Maharashtra where devotees visit to worship Shree Sai Baba and spend some time in spirituality. It is located in the Rahata Taluka of Ahmednagar District in Maharashtra. The major attraction of Shirdi is the Shirdi temple, thousands of devotees visit every day. Shirdi is a very accessible town, one can easily reach the place via the Ahmednagar–Malegaon State Highway No. 10, approximately 83 km from Ahmednagar and 15 km from Kopargaon.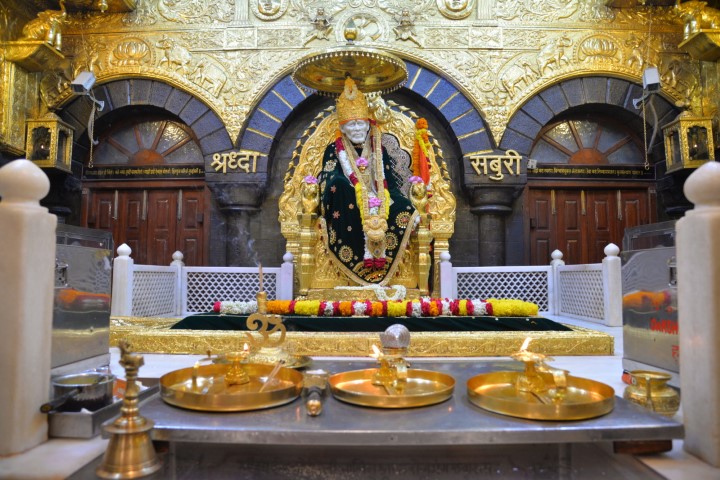 History
The history of Shirdi is related to Shri Sai Baba. It is said that at the as of 16, a young boy arrived in the town of Shirdi, he was Shri Sai Satcharitra. He remained in the town for three years, meditated continuously, and then left. The boy returned after some years and remained in Shirdi for the rest of his life. He came to be known as Shree Sai Baba. His teachings became very popular in the local area and people of almost all religion started following him.
Things to do (Activities)
Visit the Shirdi temple
One of the main purposes of people visiting Shirdi is to visit the Shirdi temple. The temple was originally built in 1922. It has evolved a lot over the years and now witnesses over 25000 devotees per day. You can visit the temple the day you reach Shirdi or you can stay for a day in the town and then visit the temple early morning. You can also go shopping at the local marketing and enjoy the local food in the town.
Take a tour to Shani Shignapur
Shani Shignapur is about 72 km from the main town of Shirdi, it takes about two hours to reach the place by road. People who want to worship Lord Shani visit the town and then go to the Shani temple. One of the most interesting facts about the village of Shri Shani Shignapur is that the village has no doors in any of the houses or shops. People of the village believe that their Lord Shaneshwar is always protecting them from all the evils hence they do not need doors. People who visit the Shirdi temple visit the Shani temple too.
Sai Heritage Village
If you are interested in knowing about the life of Sai Baba and his teaching in-depth, you can visit the Sai Heritage Village. The village showcases the major life events that took place during Sai Baba's stay in the village. The village showcases this all in the form of statues and sculptures. One can totally feel the life of Sai Baba by visiting this village.
Wet N Joy waterpark
If you are on a vacation with your family, you can visit the Wet N Joy waterpark. The waterpark is just 5 km away from Shirdi and one of the most favourite sport for people visiting Shirdi. Water rides, enjoyable pools and guaranteed enjoyment with family, the water park is a fun-filled experience.
Accommodation
List of the Accommodations available at the Destination
St Laurn - The Spiritual Resort
St Laurn - The Spiritual Resort
Spread over 05 acres of land, St Laurn-The Spiritual Resort, Shirdi is a 5-star property that is within walking distance from the Sai Baba Samadhi Temple (900 meter), Dwarka Mai (900meter), Chavadi (900 meter) , Wet n Joy Water Park (500 meter) , Khandoba Temple (2.0 km) and Shani Shignapur (75 km).
Hotel Sai Jashan
A International Award Winning, Top Rated Luxurious hotel property located at 5 mins walking distance from Shri Saibaba Samadhi Temple
Sun-n-Sand Shirdi
Welcome to Shirdi, where history and spirituality blend seamlessly to offer an unforgettable experience. Sun-n-Sand, Shirdi's premiere five star hotel is situated at just 5 minutes walk from the Saibaba Temple and is conveniently located
Hotel Temple Tree
Newly renovated. Travellers Choice 2020. Award winning 4 Star, 87 room hotel with a Multi-Cuisine restaurant, entertainment lounge, swimming pool, lawn and a conference hall.
Hotel G-Square Shirdi
At G-Square we believe that hospitality is next to godliness. We welcome all Sai devotees to this beautiful graceful place of Shri Saibaba that is Shirdi.
Hotel Sai Miracle
One of the best Shirdi hotels, Hotel Sai Miracle is located at a walking distance of 2 minutes from Sai Baba Temple
By Air
The nearest airport to Shirdi is Aurangabad in Maharashtra. The distance between Shirdi and Aurangabad airport is 131 km which would take about 3 hours of time to reach.
By Train
The nearest railway station to Shirdi is Kopargaon, which is at a distance of 15 km. You can hire a taxi to reach Shirdi from here.
By Surface
Shirdi is very well connected with all major cities of Maharashtra. You can easily reach here by taxi or by your own vehicle.