Sikkim
The Indian State of Sikkim is bordered by Bhutan, Tibet and Nepal in the Himalayas. The highest mountain range in India is situated here i.e. Mount Kanchenjunga (8586 meters). Sikkim is resplendent with thousands of varieties of wildflowers, meadows and glaciers. It also has numerous Buddhist monasteries – Pemayangtse Monastery being one of them which dates back to the 1700s.
Gangtok is the Capital City of Sikkim. The official animal of Sikkim is the Red Panda. It is sparsely populated with just 6.29 lakh people which consists of three ethnic groups i.e. The lepcha, Bhutia and Nepali. Here Hindu Temples, Buddhist Monasteries, Churches, Mosques and Gurudwara exist side by side because of which every religion has it's festival.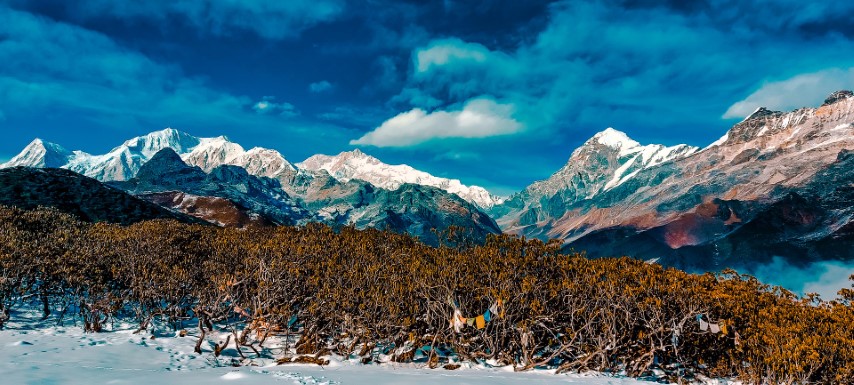 History
Ancient Hindus and the Tibetans had contacts before the Kingdom was founded by the Buddhist Namgyal dynasty in the 17th century. The Buddhist rulers were known as Chogyals.Tibet and Bhutan made incursions but in the 18th Century the British took over Sikkim to pave a trade route to Tibet. The British finally vacated in 1947 leaving the Chogyals to rule the country. In 1975 a referendum was held to abolish the Chogyal monarchy and Sikkim joined the Union of India as it's 22nd State.
Things to do (Activities)
Teesta River
The river flows flows throughout the State. It has exciting rapids spread on it's course offering options for rafting adventure. The months of March to May is the best time for river rafting.
Tsomgo Lake
This is a tourist must-see lake. The lake is made from glaciers and is 35 km from Gangtok. It is surrounded by mountains and during winter these are covered with snow. One can visit the lake in summer and winter months.
Bungee Jumping
From the Singshore Bridge suspended at a height of 198m a thrilling experience awaits adventure seekers interested in Bungee Jumping. With the cold wind on the face, a beautiful sight below and the surrounding landscape of lush green mountains is something not to be missed. The bridge is located in Uttarey Village, 5 Kms from Pelling. The timing is 06 Am to 06 Pm all year round.
Nathula Pass
The Pass is at a height of 14140 feet and covered with snow. It is 52 Kms from Gangtok and close to the Chinese border. It is an exciting experience. The Pass is open between May and October on Wednesday to Saturday.
Khangchendzonga National Park
This is a Heritage National Park located in Gangtok and is considered one of the best parks to visit in the whole of North East India. Timings are March to May and September to mid-December.
Trekking
Sikkim is a trekking paradise and one may take 7 to 10 days trekking tours at various routes.
Paragliding
Sikkim is a good location for paragliding and adventure tourism because of its high altitude and valleys. Equipment is available and one can have a great experience gliding over green forests and rivers of Sikkim. Best time id between months of May and October.
Rumtek Monastery
The Monastery is a grand religious place with lovely architecture, located 23 kms from Gangtok. It is an important shrine for Buddhist study and is visited every year by spiritual people from all around the globe. Timings are Summer 08 Am to 05 Pm and Winter months 10 Am to 05 Pm.
Yak Ride
One can experience a ride on a Yak at Tsomgo Lake – a beautiful tourist spot lying 40 Kms from Gangtok. Yaks are peaceful animals and great to ride on around the lake. One cannot help but fall in love with these docile animals. Best time to visit is during the winter months.
Namgyal Institute of Tibetology
A good place to visit to learn about the culture of Tibetans, their language and get to see the valuable historical documents preserved in its premises. The architecture is traditional and a beautiful building. The Institute is located at Deorali, Gangtok.
Pelling
Located in West Sikkim, this is the second most visited place in Sikkim after Gangtok. It is located at a height of 6800 feet and covered with dense forests and a good place to relax. Khangchendzonga & Changey waterfalls and a Monastery are located here. It is a year-round destination except in the rainy season. i.e. July to September.
From Sikkim one can travel to Bhutan, Nepal, Darjeeling, West Bengal and the Indian North East States – accessible through verdant and beautiful scenery.
By Air
124 Kms lies Bagdogra (West Bengal) serving as the airport for regular flights to Gangtok. Helicopter service is available between Bagdogra and Gangtok that takes 20 minutes flying time. The service depends on the weather and in case there are few bookings it may get cancelled.
By Train
The railway Station serving Sikkim is located at New jalpaiguri (west Bengal). The station is connected to major cities like Kolkata, New Delhi etc.
By Surface
Gangtok is well connected by road to Siliguri, Darjeeling, Kalimpong and Kolkata. Roads are well maintained except few places due mainly to landslides during monsoon.