Ujjain
Within an area of 152 sq. Kms lies the ancient city of Ujjain located in Madhya Pradesh – on the banks of Shipra River . It is an important pilgrimage center for Hindus as the Kumbh Mela is held here every 12 years and also for its many temples, for instance, centuries old Mahakaleshwar Temple with its high structure and ornate roof. Ujjain is an administrative town for Madhya Pradesh and is the fifth largest city in the State.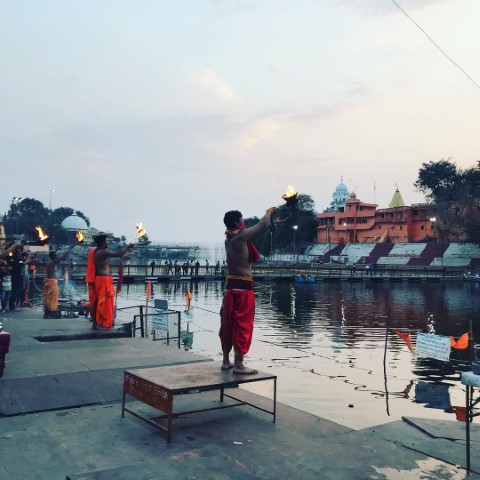 Ujjain was the ancient capital of Avanti Kingdom, emerging as a political centre of Central India around 600 B.C. and remained an important political, commercial and cultural city until the early 19th Century. Thereafter the British developed Indore as an alternative. During the early 18th Century Ujjain briefly became the Capital city of the Scindia State which eventually moved to Gwalior in the later half of the 18th century. The Holkars also ruled here for a while till the British took over. After independence Ujjain became part of Central Bharat which was eventually included into the State of Madhya Pradesh. Ujjain has been selected as one of the hundred Indian cities to be developed as a Smart City under P.M. Modi's Smart City Mission.
Things to do (Activities)
Ram Ghat
A boat ride on the Shipra River from Ram Ghat is a great way to rejuvenate and find tranquility. The Kumbh Mela is held on the Ghats every 12 years.
Aarti at Ram Ghat
Attending the evening aarti at Ram Ghat on the Shipra River makes one feel enthralled. The calm waters, illumination of lamps, ringing of bells and conches, chanting come together for an ethereal and heavenly experience.
Kaliadeh Palace
On the banks of the River Shipra the Persian architectural Palace was built in 1458 A.D.by the Sultan of Mandu. It was redecorated by the Scindias in 1920.
Dip in the Shipra River
This is a holy river and finds mention in Hindu spiritual texts. It is said taking a dip in the river purifies one's soul and body.
Vedh Shala Observatory
Maharaja jai Singh built the Observatory in the 17th Century. It features instruments for study of Indian astrology.
Ralamandal Wildlife sanctuary; Ratlam; Dewas are within 100 Kms from Ujjain. Also Bhopal and Chittorgarh are important cities one can visit from Ujjain.
By Air
Nearest airport is Indore at a distance of 65 Kms. Indore has flights to and fro Delhi; Mumbai; Hyderabad; jammu; Pune; Chennai etc.
By Train
Ujjain is well connected by rail link with most important junctions on the rail map of India.
By Surface
Ujjain has very good roads to all major cities in Madhya Pradesh, rajasthan and onwards to U.P., Delhi and across India.